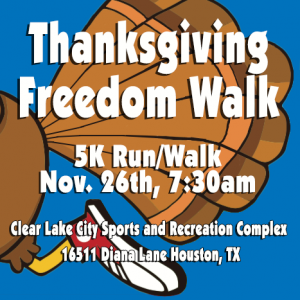 Event Date: Thursday, November 26, 2020
Start Time: 7:30 AM
Distance: 5K
Time Limit: 60 minutes
Location: Clear Lake City Sports and Recreation Complex, 16511 Diana Lane Houston, TX 77062
Facebook Page: https://www.facebook.com/bayareaturkeyday
Limit: of 500 participants
About This Event:
This event is put on by the same group that brought you the Bay Area Turkey Trot over the last few years. With the logistic challenges due to the COVID-19 pandemic we have moved to a new venue to provide a better environment for this event. We want to provide the family the ability to spend time outdoors on one of the busiest running days of the year.
Pre-Race Check-In:
Participants are required to arrive wearing a mask and wear one before the race.
You are encouraged to wear a mask on the race course.
You are required to wear a mask after the finish – if you need one we will provide them at the finish.
Parking:
Runner parking is in the lot on Diana Lane associated with the Clear Lake Recreation and Community Center. Overflow parking is down the street (Diana Lane) in the Clear Lake City-County Freeman Library parking lot. 
For more details and to register for this event visit
WHEN
November 26, 2020 at 7:30am - 10:30am
WHERE
Clear Lake City Community Center

18 RSVPS





Who's RSVPing

Simon Lamarche

Madeleine Keller

Kayla Blazine

Mark Keller

Julie Matuszczak